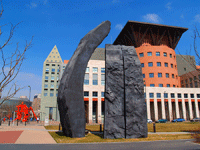 Below is a list of tours and visits available at the Central Library. Requests must be received at least two weeks in advance. A Library staff member will contact you to confirm date and time for your visit. Please pick just one department. If you would like to set up a tour at a branch, please contact the branch location.
Borrower Services Department: Take a behind-the-scenes tour of Borrowing Services. See the processes involved to have materials ready for customers to checkout. Don't have a library card? Register online and pickup your library card on the day of your visit.
Central Library General Tour: Denver's Central Library is the largest library between Los Angeles and Chicago, and each year over a million people visit to view the Michael Graves building, see the unique departments, and look at the art and sculpture exhibited in the building. Groups of all ages enjoy these 45 minute tours.
Children's Library: We welcome classes and groups from preschool through 8th grade for storytimes, booktalks, scavenger hunts, tours, and research help.
Community Technology Center (CTC) + ideaLAB: (6th grade and up) CTC staff can teach your group about almost anything related to computers and technology: Microsoft Word or Powerpoint, protecting your privacy, online photo editing, and much more. ideaLAB is our digital media lab and makerspace where you can learn how to make your own video games or music, design something you can print with our 3D printers and more.
Reference Services: Students from middle school through college come to the Reference Services area for research project help, instruction in using the library's extensive research databases, the library catalog, and tours of the collection with its books and primary sources.
Teen Area in Burnham Hoyt: See the Teen area at Central set aside for teens in 6th-12th grade. The librarians here know all about teen literature and can suggest great books for all types of readers. If you would like booktalks (4-7 book recommendations with the teen librarian), please let us know. Please note that the teen librarian is only available on Mondays, Tuesdays, and Fridays.
Western History and Genealogy: This department houses a large collection of materials for family history research and has a nationally recognized collection on the history of the American West, with excellent primary and secondary source materials for researchers of all ages. We welcome classes needing help with research projects, and classes requesting tours.
Self-guided Tours: Groups are always welcome to visit the library and explore on their own. Here are links to some informative and fun materials that can help you organize your own group visit: