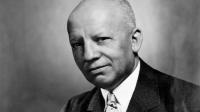 Written by Xvante F.
Carter G. Woodson was an intellectual whose commitment to honoring  historic achievements of Black people led to the establishment of Black History month, celebrated every year for the entire month of February since 1976.
"The real servant of the people must live among them, think with them, feel for them, and die for them" - Carter G Woodson
Woodson's adherence to Black history inspired and enlightened Americans of all races. By showcasing the accomplishments of Black Americans, people were able to get a better understanding of North American history and what life was like for non-white people in the United States. In 1926, he started off with just one week, the second week of February to coincide with Abraham Lincoln's and Frederick Douglass's birthdays. During this week, which Woodson titled as Negro History Week, Black Americans accomplishments would be acknowledge and celebrated. Later on, Woodson's idea was expanded to the entire month of February, now referred to as Black History Month and is still celebrated today.
For more information visit the NAACP's  website on Carter G Woodson. The link is right below.
https://naacp.org/find-resources/history-explained/civil-rights-leaders…