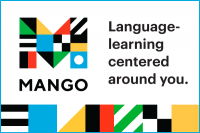 There are many language-learning apps out there and I've tried a few, but Mango has proven to be my favorite. The best part of Mango is the hands-free learning: just enable your microphone and you can talk to Mango while walking the dog or cleaning the house. Mango uses voice comparison and pronunciation practice to provide instant feedback on your accent and tune your ear to the language you're learning.
There are over 70 world languages and more than 20 ESL courses in Mango. Expert linguists and native-speaking instructors craft each course, ensuring that every lesson is culturally accurate and conversationally relevant.
Mango incorporates critical thinking and memorization exercises to challenge your recall of learned material. Quick review sequences keep you on track and ensure you maintain what you've learned. You can always go back and review or repeat a lesson.
You can use Mango on a computer or mobile device. Download the app for learning anywhere and everywhere you learn best. You can even download lessons to access Mango during limited or no connectivity.
Getting started is easy. All you need is a DPL library card (an online ecard will work too)!
Create a profile in order to track your progress or to use the mobile app
Download the Mango app from your preferred app store, login and begin learning!