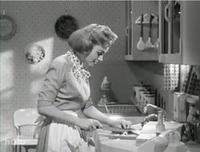 "There has always been a food processor in the kitchen. But once upon a time she was usually called the missus or Mom." -- Sue Berkman
This Sunday, we're throwing a little party in honor of Moms everywhere. We hope that you can come -- and bring your Mom!
First, Chef Shellie Kark is going to take us on a tour of New York Jewish Deli cuisine, with her demo and sampling of traditional knishes. YUMMM.
But that's not enough! Our friends at Whole Foods Market have chipped in so that we can serve a sweet deli finish -- like rich cheesecake. And we just might have a surprise or two for our Mom's.
The day is a tribute for all mothers; my own mom passed away in 1995, but I celebrate her spirit! If you've lost your mom, please come and toast to her spirit.
We love our Moms! And if you've got a photo of your mom, grandma, your favorite Mom-figure -- please send it to me by Wednesday evening via cloffel@denverlibary.org and we'll include it in a special slideshow of Our Moms at this event!
Sunday, May 8, 1:30-3 p.m., Central Library, Level B2 Conference Center.