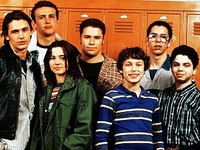 Great TV shows are constantly being released on DVD, and the library is a fabulous place to revisit wonderful shows that you may have missed. Freaks & Geeks was a comedy drama that aired during the 1999-2000 television series.
It was produced by Judd Apatow, who brought you various comedy hits such as Knocked Up and The 40 Year Old Virgin.
In 2008 Entertainment Weekly named it one of the best 25 television shows of all time, and it's easy to see why. The show takes place in 1980 in a Michigan suburb and follows the lives of two siblings and their friends. Lindsey Weir is tired of being predictable and responsible and is transitioning into hanging out with the school slackers, the "freaks" of the title. The other centerpiece of the show is Sam Weir, Lindsey's geeky brother who is just trying to find a way for him and his friends to fit in. Freaks & Geeks creates a perfect blend of hilarious comedy and heartbreaking high school realities, and is definitely not to be missed.
 
Comments
Comment
Great question! I would suggest watching some episodes and seeing what the characters eat.  I'm thinking Mashed Potatoes and Meatloaf might be on the menu, with some non-alcoholic beer on the side.
Leave a comment