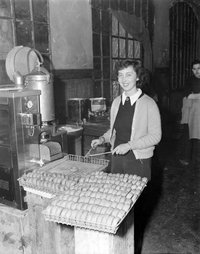 National Doughnut Day falls on the first Friday in June every year and was created by The Salvation Army in honor of the Salvation Army "Doughnut Lassies" who made donuts for homesick soldiers during World War I. Legend has it that although donuts were first introduced by Dutch settlers, it was the popularity of the doughnuts made by the "Lassies" that really made doughnuts a hit in America.
Doughnuts are certainly a hit with me! My dream doughnut feast would include doughnuts from Voodoo Doughnut in Portland, Doughnut Plant in New York, and Walton Donuts right here in Denver. But who am I kidding? Any doughnut is a good doughnut! I'll definitely be heading out for my free doughnut from LaMar's or Krispy Kreme on National Doughnut Day. What are your favorite doughnut spots?
I hope you celebrate National Doughnut Day with a sweet treat of your own and one of these great items from our collection:
For Kids:
And no doughnut celebration would be complete without a few episodes of The Simpsons!
Doughnut girl at work image courtesy of the Western History and Genealogy Digital Image Collection.