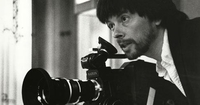 Born today in 1953, Ken Burns has been entertaining and educating audiences for 30 years, and is credited with perfecting the long documentary style, epitomized by his opuses Jazz and Baseball.
Calling PBS home, he has directed over 19 films, most recently The National Parks: America's Best Idea.
With only a few minor exceptions, the library owns Burns' complete works.