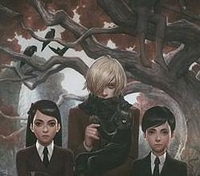 Every month, librarians from Denver Public Library branches get together to talk about new books for school-aged kids. Here are some exciting new titles for fall.
Books for younger readers:
Bink and Gollie by Kate DiCamillo and Alison McGhee is a friendship story about two girls who are very different from each other. Bink is messy and Gollie is neat; Bink is wild and Gollie is cautious; Bink loves goldfish and Gollie just doesn't. The two girls' differences balance each other out to make a perfect team. This newest book from one of our favorite authors will delight new readers and those with stronger reading skills. Recommended by Gwen, Children's Collection Specialist.
In Alvin Ho: Allergic to Birthday Parties, Science Projects, and Other Man-Made Catastrophes by Lenore Look, we join our favorite scaredy-cat kid as he tackles scary scenarios like school picture day and tea parties. If you don't know Alvin Ho already, you'll want to make friends with one of the funniest kids ever in his first two books: Alvin Ho: Allergic to School, Girls, and Other Scary Things and Alvin Ho: Allergic to Camping, Hiking, and Other Natural Disasters. Recommended by Becker from the Schlessman Family branch.
Great Migrations by Elizabeth Carney is full of amazing photographs and facts about different animals and how they migrate. Learn about the amazing Monarch butterflies of Sierra Chincua, Mexico, and how they travel all the way to Canada, or how whole families of whales swim together across oceans every year. This book has something for everyone to learn about animal life. Recommended by Chufo from the Children's Library.
Books for older readers:
Penny Dreadful by Laurel Snyder is about Penelope, a rich city girl, who becomes Penny, a poor country girl, when her father leaves his job. Penny and her family figure out what is really important to them while they learn to get along without a cook and a maid, but have books and friends instead. Penny, who used to be lonely, becomes part of a group of kids who have adventures with a capitol A. If you liked Pippi Longstocking or Because of Winn-Dixie, this is the next book for you! Recommended by Lisa from the Westwood branch.
The Kneebone Boy by Ellen Potter is a little creepy, a little weird, a little funny, and a lot of fun. The three Hardscrabble siblings are sent to London to stay with a cousin, who turns out not to actually be home. So instead, they set off on their own to find a long-lost aunt who seems to know a secret about their long-lost mother. It turns out that the aunt lives in a miniature castle that is right next-door to the mysterious full-size Kneebone castle. The Hardscrabbles get sucked in to a local legend about the creepy Kneebone boy and try to solve the mystery of their missing mother at the same time. This book is full of quirky characters, adventure, and mystery and should appeal to fans of The Graveyard Book or The Willoughbys. Recommended by Gwen, Children's Collection Specialist.
Falling In by Frances O'Roark Dowell is kind of part Alice in Wonderland and part fairy tale. When Isabelle falls through a mysterious closet at her school, she lands in a different world where the children living there believe that she is a witch who has come to eat them because of the bright red boots she is wearing. While Isabelle was uncomfortable and lonely in her own world, she fits in with these new children and decides to save them from the witch. Recommended by Kelly from the Schlessman Family branch.
Kubla Khan: The Emperor of Everything by Kathleen Krull tells the very interesting true story of the Asian ruler who built Beijing, threw parties for 40,000 people, and met with Marco Polo. Robert Byrd created detailed and beautiful illustrations about this amazing man who lived in a time we don't read about very often. Recommended by Lisa at the Westwood branch.
Reckless by Cornelia Funke is a dark and creepy tale for older readers. For years, Jacob Reckless has been going to the land of fairy tales through a magical mirror, but now that he is an adult, his brother Will has discovered his secret and followed him through the mirror. While Jacob enjoys this land as a bit of a thief, hero, and adventurer, his brother instantly encounters the dark side when he is bitten and injected with a venom that begins to turn him into stone. Jacob must now try to save his brother before he loses all of his humanity, but also has to save himself, the kingdom, and all of his friends from the stone people who are mounting a war. Recommended by Kahla from the Children's Library.
Saving Sky by Diane Stanley is set in an alternate America where the terrorist attacks continued after 9/11. Sky Brightman lives "off the grid" on a ranch in New Mexico, so her world is a little more peaceful - except that the kids at school think she's weird. When people of Middle Eastern descent in her community, including her friend, are harassed and then start disappearing, Sky decides to shake things up and take a stand against injustice. This powerful read is recommended by Chufo and Kristi from the Children's Library and Becker from the Schlessman Family branch.