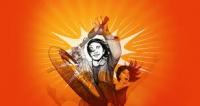 New artists. Fresh perspectives. Our incredible creative teams bring both bold and heartwarming stories to life in the way that only live theatre can. We celebrate the variety of voices that make our shows – and Colorado as a whole – so unique. --DCPA
The Denver Center for the Performing Arts partners with the Denver Public Library to provide a ticket voucher program for select Theatre Company shows.
How it Works
Holds go live at 9 a.m. on the voucher release dates listed below. A link to the online catalog will appear and you place a hold just like you would for a book
Quantities are limited. Holds will be filled while supplies last and any remaining holds will be canceled
If you receive a holds notice, your hold has been filled!
You will receive two vouchers, redeemable for two tickets
Holds will be available for pickup at the Borrower Services desk at your library holds pickup location
Call the box office at 303-893-4100 to redeem the vouchers for the night of your choice, subject to availability
Vouchers will be removed from your account within a few days of checkout
Vouchers go quickly, but the DCPA also offers a 15% discount on ticket prices to library card holders. Simply type in DPL18 as the promo code when you purchase your tickets.
Vietgone
Voucher Release Date: Aug 14th, limited to 15 holds. ALL HOLDS FILLED

Oklahoma -
Voucher Release Date: Aug 21, limited to 25 holds. ALL HOLDS FILLED

The Constant Wife
Voucher Release Date: Sept 4th, limited to 15 holds. ALL HOLDS FILLED
Show Dates: Sept 21- Oct 21
Constance Middleton cheerfully plays her traditional role, but she knows far more than she's willing to let on. This cheeky satire pokes holes in the expectations of relationships, fidelity and social roles that were just as relevant in the 1920s as they are today. Featuring an infectiously plucky heroine at the helm who Variety calls "an antecedent to the women of Desperate Housewives and Sex and the City," The Constant Wife takes joy in the imperfections of life and applauds those who elude the strict confines of society to discover true happiness.
A Christmas Carol
Voucer Release Date: Nov 6, limited to 20 holds.
Show Dates: Nov 21-Dec 24
Essential to the holiday season in Denver, A Christmas Carol is a joyous and opulent musical adaptation that traces money-hoarding skinflint Ebenezer Scrooge's triumphant overnight journey to redemption. It promises to "warm your heart and renew your holiday spirit" according to the Examiner. Based on Charles Dickens' classic novel, A Christmas Carol illuminates the meaning of the holiday season in a way that has resonated for generations.