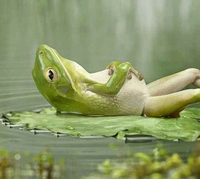 If you Google the words "simplify life" your search will result in over 44 million hits. Although I didn't read them all, the general theme is to stop doing things that you don't want to do in order to leave time for the things you really enjoy.
The notion itself can provoke anxiety - how do you go about eliminating chaos, clutter and activities you'd rather not do? The answer is different for everyone, and there is no shortage of resources to begin the process. You could get inspired by reading Thoreau's Walden, learn how to take the drudgery out of housework (see video below) or see how one woman simplified her life by going "no poo."
What to do with all that free time? We could read more books - including ones on learning yoga, meditation, and just about any hobby or activity you can imagine. We could go for walks, learn to play the ukulele, or do nothing at all.
Websites:
Becoming Minimalist: The 10 Most Important Things to Simplify in Your Life
Midway Simplicity: 27 Simplicity Legends Reveal Their Most Practical Tips to Simplify Your LIfe
Books:
You Can Buy Happiness (and it's Cheap): How One Woman Radically Simplified Her Life and How You Can Too by Tammy Strobel (2012)
Speed Cleaning by Jeff Campbell (2010)
Small is Beautiful: Economics as if People Mattered by E.F. Schumacher (1973)
100 Ways to Simplify Your Life by Elaine St. James (2001)
Luxurious Minimalism: Elegant Interiors by Fritz Von der Schulenburg (2013)
The 100 Thing Challenge: How I Got Rid of Almost Everything, Remade My Life, and Regained My Soul by Dave Bruno (2010)
The Art of Doing Nothing: Simple Ways to Make Time for Yourself by Véronique Vienne (1998)
Simplicity Parenting: Using the Extraordinary Power of Less to Raise Calmer, Happier, and More Secure Kids by Kim John Payne, Lisa M. Ross (Sound recording, 2011)
Everything Must Go with Will Ferrell (DVD, 2011)
Comments
Comment
Living simple is difficult, but this does some untangling. Thanks!
Simply yours,
Cesar
Leave a comment