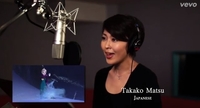 Did you know there are about 6,500 languages spoken in the world today? The new movie Frozen has been translated into 41 of these languages, and this amazing video shows singers performing the hit "Let it Go" in 25 of them.
Feeling inspired? The Denver Public Library offers many ways to learn a new language, and maybe even meet a native speaker! Check out our online language resources, such as Mango Languages. Or search the catalog for language-learning books, DVDs, and CDs. We also carry books, movies, music, and magazines in several languages, and offer interlibrary loan services that allow you to request items in everything from Amharic to Yoruba.
Our Plaza programs include conversation tables where you can practice your English, Spanish, and Mandarin! We also provide arts programs for the whole family, computer help, citizenship information, and assistance with whatever project you're working on, all with help from staff who speak a variety of languages (not all 6,500 of them, though). Come check it out!
Plaza is a meeting place where people from all over the world connect with information, make new friends, and enjoy new experiences, building Denver's global community.
To find a Plaza program near you, please see our events calendar.