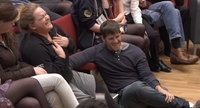 The Denver Public Library's Plaza programs are all about connections. Of course, all libraries are in the business of connecting folks with information, but DPL takes it a step further: we want to connect people from all over the world with each other. Plazas at the library function as "third spaces"--neutral meeting grounds that are neither home nor work. When we visit these third spaces, we are able to escape the commitments and pressures of home and work, and focus instead on our personal interests and goals. Third spaces are especially valuable for creating healthy communities by encouraging connections with each other, and the Plazas are specifically designed to foster these connections between international migrants and their surrounding community. When we share our experiences, spend time together, and learn from and with each other, it strengthens our community and lets us be active participants in our own neighborhood.
What can you do in the Plazas? Anything you want! Whatever you want to learn or do, we're there to help you, with the full support of your own neighbors and community. And you just never know whom you might meet--our very own Plaza staff members Rosa and Alberto found a connection at the library; they're planning to be married soon. Congrats to the happy couple! Come discover something new--and maybe even meet the love of your life--at the library.
Want to see other ways of meeting people? Check out this video from Brandon Stanton, bestselling author and blogger of Humans of New York, who reveals what he does to develop his own connections.
--Shanna S. and Will C.
Plaza is a meeting place where people from all over the world connect with information, make new friends, and enjoy new experiences, building Denver's global community.
To find a Plaza program near you, please see our events calendar.