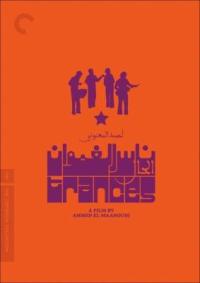 Hello movie lovers! It's that time again for us staff here at Denver Public Library to offer up our favorite movie picks. From new to classics there are so many great picks this month that we couldn't wait to share with you all!
You all know about our great What We're Watching Now program, right? You don't? Join us on August 14 with film professor John Anzalone for in-depth look at The Clockmaker of St. Paul, directed by Bertrand Tavernier. Watch this award winning crime drama on Kanopy with your library card, then join us online for the discussion. 
Dodie
Trances (2021) DVD; Morocco
Originally produced as a documentary film in 1981, the groundbreaking Moroccan band Nass El Ghiwane is the dynamic subject of this captivating, one-of-a-kind documentary by Ahmed El Maanouni, who filmed the four musicians during a series of electrifying live performances in Tunisia, Morocco, and France; on the streets of Casablanca; and in intimate conversations. Storytellers through song and traditional instruments, and with connections to political theater, the band became an international sensation, thanks to its rebellious lyrics and sublime, fully acoustic sound, which draws on Berber rhythms, Malhun sung poetry, and Gnawa dances. 
Claire
Jackass Forever (2022) DVD
After eleven years, the Jackass crew is back for their final adventure.
Lily 
Blind (2015) DVD & Kanopy; Norway
Ingrid is adjusting to a recent loss of vision, apartment-bound and mildly hallucinating as she grapples with a significant life change. Surreal imaginings of her worst fears play out as she learns to navigate the world without sight, it's a rocky journey, but she eventually comes into her own.
Daniel
The Mitchells vs The Machines (2021) DVD
The quirky Mitchell family goes on a road trip to take their filmmaker daughter, Katie, to college.  Outdoorsman Dad, Rick, feels as if he has lost his bond with his family-especially Katie-mainly due to not only their differences in hobbies/interests, but their electronic devices as well.  The road trip goes from dysfunctional to unexpected when all technology takes on a life of its own and decides to start an uprising taking over the world, leaving humanity's last hope to be the Mitchell family.  
Kristen A. 
Lunana: A Yak in the Classroom (2022) DVD & Kanopy; Bhutan
This had me at "Yak," but would've been great even if it was yak-free! Gorgeous landscape, beautiful music, understated yet intense human relationships and character development, and  a yak – all wonderful. As the yak comes to play a meaningful part in the story, the film becomes deeply moving.
Le' Trail
A Bug's Life (1999) DVD
Journey inside the miniature world of bugs for bigger-than-life fun and adventure under every leaf.
The Witches of Eastwick (1997) DVD
The "witches" are three modern-day women yearning for Mr. Right in a quaint New England town. Wealthy Daryl Van Horne arrives in town and sets out to prove he's a devil with the ladies.
In case you didn't know, the first week of August is Denver Days, and we have a lot planned. Denver Days is a local tradition, celebrating its 10th year, designed to facilitate connections between Denverites through lively gatherings at the end of each summer. DPL's 27 branches can't thrive without their unique neighborhood communities, so join us in celebrating our neighbors during Denver Days. We have fun events throughout the city all week long, from ice cream socials to yoga classes! 
Summer is the time of blockbusters! What is your favorite from the past?