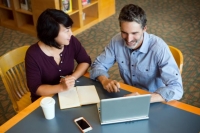 Use your computer knowledge to help people in the Denver community make the most of technology. If you have a desire to assist others and basic computer skills, we need you as a technology volunteer in the Community Technology Center at the Central Library.
In the Community Technology Center, people can access computers, the internet, and programs ranging from Microsoft Office to the Adobe Creative Suite.
Along with hardware and software, library visitors find dedicated staff and volunteers to help navigate the world of technology.
As a technology volunteer, you would help people apply for jobs, connect with friends on Facebook, and discover eBooks and digital music. You can also help people explore the creative side of technology in the SM Energy ideaLAB, a makerspace and digital media lab with equipment for 3D printing, sewing, electronics, and more.
You don't need advanced tech experience to help. Patience and curiosity, along with basic skills like browsing the internet and creating Word documents, make the biggest difference with introducing people to new computer concepts.
Find out more about volunteering in the Community Technology Center:
Technology Volunteer Fair
Saturday, July 22, 11am - 1pm
Central Library, Floor 4, Rockwell Room
At the fair, we'll tell you more about the technology volunteer opportunities available at Denver Public Library and talk to you about ways you can help your community.
Unable to make it to the fair? Apply online any time to be a Denver Public Library technology volunteer.