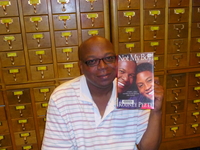 Due to popular demand, the critically acclaimed series from the library's Literary Bureau, "What We're Reading," is back. Our tireless researchers have read books on their lunch hours, breaks and even at home in order to share their findings.
Sean Cowans from Data and Network Services says, "When I first read Rodney Peete's book Not My Boy, I was moved to tears because we both shared the exact same feelings about our sons. At first, when I found out that my son had autism, I was angry and putting the blame all on myself, just like Rodney was feeling. Then, by reading the book I discovered it was more like a 'how-to guide' on handling the different daily routines of my son. I also felt that even if I wasn't a pro football player or famous person, I could still relate to everything he and his wife were going through. So, if you have some time, please read this book -- it has really helped me a lot." In 1997, Rodney Peete and his wife, Holly Robinson Peete, formed the HollyRod Foundation, which provides care and resources for people living with either Parkinson's Disease or Autism.
Amy Musser from Children's has just finished The Islands of Chaldea, by the late science fiction writer Diana Wynne Jones, who died in 2011 before she was able to complete the book. Her younger sister Ursula, also a writer, pondered the manuscript for 6 months, and then finished it. "Diana Wynne Jones is one of my favorite authors, and she wrote great fantasy fiction for kids 4th grade and up," says Musser. "As Aileen and her motley crew of friends travel the islands, a plot full of thrilling twists, surprising revelations, and magic galore unfolds. This humorous and clever story will have fantasy fans immersed in the magic of the islands of Chaldea."
Joe Cahn, from Reference, is reading The City of Palaces, by Michael Nava. "I don't read much historical fiction, but this book caught my eye because I've enjoyed the author's series of well-crafted mysteries featuring Henry Rios, a gay detective," he says. "The City of Palaces is set in Mexico City during the dictatorship of Porfirio Diaz around the turn of the last century. Nava has imagined an unlikely love story between two aristocrats, drawn together by their tragic pasts, who devote themselves to the poor. They are swept up in the Revolution of 1910. There's a gay subtext that gives a fascinating glimpse into sexual identity in the era of Oscar Wilde, a long way from Reading Gaol. Nava plans a quartet of novels that will follow this family." Michael Nava, the first in his family to attend college, graduated from Colorado College and Stanford University Law School.
"Rex Libris by James Turner is a comic book series featuring an ancient, crime-fighting librarian who traverses the universe to fight evil forces. I love the stylized illustration and levity--it's a great pick for something fun and light," says Erin Wilkins, who works at the University Hills Branch. In a recent interview, Turner explains how he got his inspiration for the series: "Speaking of libraries, I did a good deal of research for the comic in one, and the fact that Karl Marx wrote much of Das Kapital in a public library just goes to show the range of the institution. It's a wonderful, free resource center for all citizens to use. It's remarkable when you think about it. We don't use them enough. Just go in and browse the stacks and you'll find something fascinating. It's inevitable in a good library."
"I'm reading East of Denver, winner of the 2012 Amazon Breakthrough Novel Award by Denver author Gregory Hill," says Robin Filipczak from Reference. "It's terse, like a Colorado prairie landscape, where the novel is set. Written with a flat affect, East of Denver is replete with emotion, gallows humor in the face of tragedy and loss. A set of characters as lovable as The Monkey Wrench Gang, but more painfully human. A celebration of taking our triumph where we can get it." A musician, illustrator, and self-taught writer, Hill was raised on a farm in Joes, Colorado (population 80). East of Denver was selected in the Amazon contest from nearly 5000 entries.