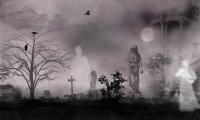 According to Gale Virtual Reference's Mythology and Culture Worldwide (available with your DPL card), American ghost mythology began in the Puritan colonies of Massachusetts in the early 1600s.
Early New Englanders saw several possible reasons why ghosts might want to mingle with the living. According to B.A. Botkin, one example was "the accusing ghost who returns to avenge a wrong." Other ghostly motives include looking for a loved one, tending to unfinished business, or the simple desire to hang around a cemetery.
Some believe that ghosts just refuse to face facts and choose to stay behind rather than move on to the afterlife. They want to be acknowledged and may lash out at the living, such as the ghost who reportedly resides in the basement of the Central Library, who has been known to jostle innocent employees who were just trying to do their jobs.
DPL has an unearthly number of films from around the globe featuring the lingering souls of the departed, including:
A Chinese Ghost Story (China) A tax collector spends the night in a haunted temple. There he meets and falls in love with a ghostly spirit who is trapped for eternity by a hideous tree demon.
Silk (China) A group of paranormal researchers investigate the scene of a murder and find a picture of the ghost of a young boy in an empty room. Will they be able to capture the ghost, or will they unleash an even more powerful force?
The Ghost and Mrs. Muir (England) At the turn of the century a young widow and her daughter move into a cottage on the English coast. Soon she learns that the cottage is haunted by the ghost of its former owner, a sea captain. When he finds he can't scare her away, they soon fall into a most unlikely love affair.
The Ghost (India) A doctor, Aman, is forced to provide a false postmortem report on the body of a man murdered by his brother and his gang, who have kidnapped Aman's wife Neha. But the ghost of the dead man comes back to possess Neha and take revenge on Aman.
Kill, Baby, Kill (Italy) A 19th century European village is bedeviled by the ghost of a ball-bouncing, murderous little girl who was trampled by horses during a festival and now haunts the townfolk, driving them to suicide if they look at her ghost.
Kwaidan (Japan) Four stories of the supernatural based on Japanese folk material, including In a Cup of Tea, where a writer wonders what would happen to a person who drinks another's soul—and finds out.
The Red Shoes (Korea) A mother who has just left her husband finds some mysterious shoes, and strange occurrences follow her as she tries to make it on her own with her young daughter. A helpful decorator helps her solve the mystery and put the ghosts to rest.
Volver (Spain) Years ago, two sisters lost their parents in a fire in La Mancha. Their aunt, Paula, still lives in the village and continues to speak about her sister Irene, mother of the two sisters, as if she were still alive. When the old aunt dies, the situation changes and the past returns.
The Phantom Carriage (Sweden) The last person to die on New Year's Eve is doomed to take the reins of Death's chariot and work tirelessly collecting fresh souls for the new year. So says the legend that drives the Phantom Carriage, the story of an alcoholic, abusive ne'er-do-well who is shown the error of his ways by the Salvation Army sister who believes in his redemption.
The Sixth Sense (United States) A noted child psychologist attempts to help a frightened 8-year-old boy who is experiencing terrifying visions of the dead.
Topper & Topper Returns (United States) In Topper, a sophisticated and playful couple become ghosts and haunt the life of a stuffy banker. Topper Returns features Cosmo Topper helping a shapely ghost track down her killer.
Questions? Ask Reference Services or call 720-865-1363 today!
Comments
Comment
Thank you for the great post, Lisa--am definitely going to try to catch some of your suggestions, if I can...also, one of my favorite ghost stories on dvd is Ghost, with Demi Moore and Patrick Swayze--check it out: https://www.youtube.com/watch?v=HvyCMgAajqk
Happy Halloween, everyone!
Comment
Thanks for all the great suggestions from the Foreign Films collection!
Comment
I love a good ghost story. Definitely going to watch some of these films.
Leave a comment