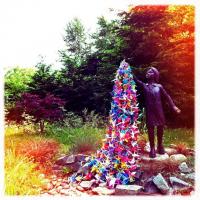 As it happens, this week is the fateful anniversary of the atomic bombing of Hiroshima (August 6, 1945) and Nagasaki (August 9, 1945), ending Pacific conflict between Japan and the United States and the Allies. A year later, writer John Hersey published a book-length New Yorker article about the bombing and it quickly came out in book form, titled Hiroshima. This moving story of six survivors has been in print ever since, "according to later New Yorker essayist Roger Angell, because '[i]ts story became a part of our ceaseless thinking about world wars and nuclear holocaust'". It is an unforgettable retelling of a regrettable moment in human history.
There was, in Hiroshima, a young girl named Sadako Sasaki who was only two years old when the bomb was dropped on the city. She survived the bombing but began to suffer, as many survivors did, the effects of radiation exposure. Her illnesses began to manifest persistently and in 1954 and she was diagnosed with leukemia. When it became apparent to Sadako and her family that she would not survive, Sadako began making paper cranes in the Japanese tradition of origami (folding paper). Told by classmates that if she created 1000 paper cranes, her dream of good health would come true.
Sadako Sasaki died in 1955 at the age of twelve. She had folded many paper cranes; some accounts say she created 644 while others say she made well over one thousand. Her dream of good health did not come true, but she remains a lasting testament to the mindful creation of something good to combat the dark inclinations of mankind. And origami cranes continue to be a symbol of "hope and healing during challenging times." -- Origami Crane Project
Denver Public Library has many resources to learn origami. And we are hosting a class taught by Nancy Kiyota, a third generation Japanese American (sansei in Japanese) who has been creating with origami since she was a young girl. Learn more about the workshop here.
The library also has abundant resources if you would like to learn more about Hiroshima, Nagasaki and the potential of the world's use of nuclear power. Chat with a library professional to learn more.