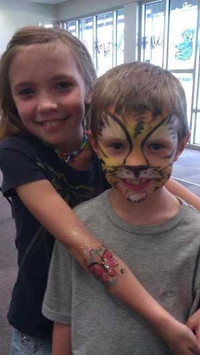 Please meet Kylee and her younger brother Connor, two of my favorite regulars here at the Green Valley Ranch Library.  They are both such avid readers that it's not unusual to see them in the library more than once a week.  Kylee and Connor also participated in our Summer of Reading Program this year, and since they always brighten my day, I couldn't resist talking with them about their experience.
Kylee loves to read happy books in her room before bedtime to ward off any bad dreams.  Her favorite book this summer was Wizard at Work, by Vivian Vande Velde.  Connor likes to read in the living room and in the car (he obviously has no problems with car sickness).  His favorite books to read this summer included Clifford and Magic Tree House.
Kylee and Connor also attended many of our Summer of Reading performances, so I was curious to find out what their favorite program was.  Kylee enjoyed Bunnies on Vacation, a magic show staring three lively bunnies and a bird.  Connor however, liked Reptiles, an exciting hands-on exploration of spiders, lizards and an eight foot long albino python named Banana.
As their final Summer of Reading prize, Kylee chose Summer According to Humphrey, by Betty G. Birney, and Connor chose Cole: Ninja of Earth, a Lego Ninjago book by Greg Farshtey.  It was no surprise to learn that they had both already finished (and enjoyed) reading their book prizes before the Summer of Reading Program had even ended!
Stephanie, Kylee and Connor's mom, says what she enjoys most about the Summer of Reading Program is that it keeps children's minds fresh and their imaginations active!
Comments
Comment
hi connor i relly mess you
Leave a comment