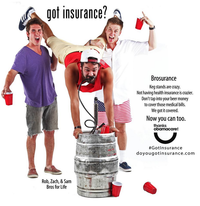 "In the past, people buying coverage directly from an insurer could generally sign up any time of the year as long as they got through the medical underwriting process that insurers used to evaluate applicants. Not anymore." (see this Denver Post article for more)
1)  As the end of March draws near, Connect For Health Colorado (CFHC) wants everyone to know that open enrollment is ending for health insurance throughout the state.
    This is not only for plans within the CFHC Marketplace but is also true for plans being sold outside of the Marketplace.
Here is the word from the State Division of Insurance:
    "The open enrollment dates for individual health insurance apply to both the Connect for Health CO marketplace and outside of it. Colorado insurance law [see CRS 10-16-105.7] and Colorado Insurance Regulation 4-2-43 provide the rules and guidance related to open enrollment periods."
A growing number of people have been signing up for health insurance through the exchange during the first two months of 2014. As of March 1st, 2014, over 220,000 Coloradans have signed up for new health insurance through ConnectForHealthCO.com. More of the latest data.
2)  People must register by March 15th to get coverage as of April 1st. They must sign up by March 31st, or they will miss out on the opportunity to register for health insurance until open enrollment begins again next November 15th. **We are in the "home-stretch" for buying health insurance this year, and there are lots of places to sign up now! CFHC even has a store on the 16th Street Mall, between Glenarm & Welton, downtown!
     ** The exception to this is if there is a qualifying life event (marriage, new baby, loss of a job, etc.) Medicaid and CHP (Child Health Plan) will continue to be available for eligible participants throughout the year.
3)  The penalty for not having health insurance in 2014 will usually be higher than the minimum of $95. That's $95 for each adult in the family who is uninsured, or up to 1% of taxable income. The Tax Policy Center has an ACA Tax Penalty Calculator that can show the penalty amount with just a few clicks. National Public Radio has a new story about understanding your potential penalty.
4)  The Piton Foundation and Connect for Health Colorado are offering BOTH free tax assistance AND health insurance enrollment assistance to families with household annual income under $50,000. Or you can sign up at CFHC Events, on the website, or by contacting any of the organizations in the Assistance Network.
5)  We have bilingual Denver Human Services staff at the Central Library each Thursday, 10 AM - 2 PM. They are located near the Information Desk on Level 1. They are happy to help people enroll through Connect For Health, but they will assist with applications for Food Stamps, cash benefits and other needs, as well.