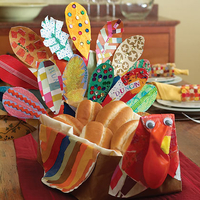 It's no secret the holidays can challenge even the most harmonious family relationships. Someone, somewhere, will be uttering "less is more" while dodging a dinner roll. Table conversations can escalate faster than a Facebook firestorm. Knowing how to navigate discussions around dueling politics or between divided sports fans is a prized holiday survival skill. 
So how can you keep the holiday sparkle alive and the goodwill flowing? Think trivia! Curiosities and wonders appeal to all ages. Ensure a harmonious (and educational) meal with the people you love most by taking one of these books to your next family gathering.
The Library also has a variety of family friendly films to keep the unity alive until the tryptophan kicks in; yet another reminder that gratitude, like the diversity of family DNA, comes in many forms. Happy Holidays!