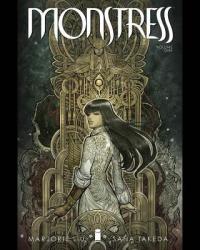 Named for acclaimed comics creator Will Eisner, the awards are celebrating their 30th year of bringing attention to and highlighting the best publications and creators in comics and graphic novels. 2018 was one for the record book - for the first time ever a female author, Marjorie Liu, has won a Best Writer award. In fact, her epic fantasy Monstress won five Eisners, including best continuing series and best publication for teens. Liu shares the Best Writer honors with Tom King for his work on Batman Annual, Elmer Fudd Special, and Mister Miracle. The results of the voting were announced in a gala awards ceremony on the evening of Friday, July 20 at Comic-Con in San Diego.
Visit the Comic-Con 2018 Eisner Awards page for a full list of winners and nominees. Here are a few highlights, all available from Denver Public Library!
Best Publication for Teens (ages 13-17)
Monstress, written by Marjorie Liu and illustrated by Sana Takeda - Set in a world populated by humans, magical half-breeds and evil sorceresses alike, this first volume in the Monstress series follows Maika Halfwolf, a humanoid Arcanic with a dark past and a tortured present. She lives at odds with The Cumaea, a coven of witches who use the Arcanic's own life force to feed their wicked ways.
Best Adaptation from Another Medium
Kindred, written by Octavia Butler, adapted by Damian Duffy and John Jennings - Dana, an African-American woman in the 1970s, is thrust backward in time to a 19th-century Maryland plantation. Over many visits to the past, she realizes that the spoiled son of the plantation owner is her ancestor, destined to father children with a slave, and she must protect his life to ensure her own existence. Check out the original book, too.
Black Bolt, written by Saladin Ahmed and illustrated by Christian Ward - Black Bolt is the long silent king of the Inhumans, and this series begins with him imprisoned. Who could be powerful enough to hold the uncanny Black Bolt? The answers to both are shocking. If he is to learn the truth, Black Bolt must first win a fight to the death with a fellow inmate.
Baking with Kafka by Tom Gauld - A riotous collection of laugh-out-loud cartoons in his signature style, this work reaffirms longtime Guardian contributor Gauld's position as a first-rate cartoonist, creating work infused with a deep understanding of both literary and cartoon history.
Spinning by Tillie Walden - Tillie Walden knew she was gay since she was 5, which was also when she began ice skating. This memoir recounts the years from when she's 11 to when she reaches her late teens, as her life marches on through fledgling romances, moving halfway across the country, bullying, and various traumas with skating as her only constant.
Did you know that our nonfiction graphic titles are now shelved with the rest of the graphic novel collections in our branches? Just ask the next time you visit one of our 26 branches in person, staff are more than happy to show you to the shelves!