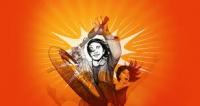 New artists. Fresh perspectives. Our incredible creative teams bring both bold and heartwarming stories to life in the way that only live theatre can. We celebrate the variety of voices that make our shows – and Colorado as a whole – so unique. --DCPA
The Denver Center for the Performing Arts partners with the Denver Public Library to provide a ticket voucher program for select Theatre Company shows.
Vouchers will be awarded through a random lottery. Check here to enter during lottery dates listed below.
Winners will be notified by a holds pickup notification. You will receive two vouchers, redeemable for two tickets.
Holds will be available for pickup at the Borrower Services desk at your library holds pickup location
Call the box office at 303-893-4100 to redeem the vouchers for the night of your choice, subject to availability
Vouchers will be removed from your account within a few days of checkout
Ticket vouchers are limited, but the DCPA also offers a 15% discount on ticket prices to library card holders. Simply type in DPL18 as the promo code when you purchase your tickets.
A Christmas Carol
Lottery Runs October 31, 8.a.m. - November 7, 3 p.m.
Show Dates: Nov 21-Dec 24
Essential to the holiday season in Denver, A Christmas Carol is a joyous and opulent musical adaptation that traces money-hoarding skinflint Ebenezer Scrooge's triumphant overnight journey to redemption. It promises to "warm your heart and renew your holiday spirit" according to the Examiner. Based on Charles Dickens' classic novel, A Christmas Carol illuminates the meaning of the holiday season in a way that has resonated for generations.