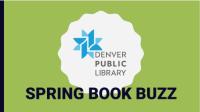 No one was more disappointed than us when in-person Winter Book Buzzes were cancelled in January, but response to its posting on the Denver Public Library YouTube channel has been wonderful. And even though we managed to hit to a few branch libraries and outreach stops with a live Spring Book Buzz, fellow book talker Katie from the Hadley Branch Library and I really want to share this incredible list of new and forthcoming titles with all of you, so we've put it up online as well!
No matter what genre or format you prefer, you'll find something on this list to love. From a deep dive into the Love Canal chemical disaster to historical fiction placed on a 19th century plantation in Puerto Rico to memory wiping, preserving, and selling, these 31 titles plumb the full range of reading and listening experiences brought to you by Denver Public Library.
Click here for a printable handout of the books and check out the Spring Buzz now available on the DPL YouTube channel. Happy reading!